About the book
What makes multicultural relationships so challenging?
How can you be sure your ethnic man is right for you?
Multicultural relationships are increasingly common, despite the many challenges involved. If you're a Caucasian woman considering a relationship with an ethnic man, this invaluable guide will open your eyes to the impact of religion, family obligations and peer pressure on your partner's ability to fully commit to you.
With practical advice and case studies of real-life multicultural couples, Dating the Ethnic Man shows you how to address and embrace the often-divisive cultural differences between you and your man, while enriching your experience of life and of each other.
The next-best thing to couples therapy, this book takes you on a journey of discovery and understanding that will enable you to gain control of your romantic life. It encourages you to honestly explore your motives as well as those of your partner, promoting deeper awareness and exposing the traditional cultural pressures that can jeopardize your potentially nurturing and passionate union.
Questions for contemplation and an in-depth compatibility test provide additional insights into the ethnic man's values, sexual issues and emotional conflicts.
Praise for Dating the Ethnic Man: Strategies for Success
 "Dating the Ethnic Man is a must-read for anyone involved in a multicultural relationship. No other resource exists, to my knowledge, to help couples navigate the challenging waters of inter-racial/religious unions. As a therapist, I see many couples whose relationships are falling apart because they were not prepared for the numerous challenges they encountered. Dr Faizal offers explanations that will help couples understand each other on many levels: family, culture, religion, values, etc. I would recommend that any couple embarking on a multicultural commitment read this book. It will surely help them to avoid many pitfalls along the journey toward matrimonial bliss!"

— Dr Laurie Betito, Psychologist, Host of Passion, CJAD 800 radio, Montreal
"Dr Sahukhan gives a unique perspective on dating dynamics that I've yet to see on book shelves. A must-read for all singles looking for multicultural romance."

— Dr Trina Read, Sexologist and author of Till Sex Do Us Part
"Dating the Ethnic Man is a marvelously provocative book that rips open the intimate fabric of cross-cultural romance. I think every multicultural couple will find passages here that make them say, 'That's it—our problem, our situation.' It's also an immensely helpful book for Western men in relationship with ethnic women, since they experience the same clash between individualist and collectivist thinking."

— Kurt Preinsperg, PhD, Professor of Philosophy, Langara College, Vancouver, BC
"Dating the Ethnic Man is a rare and timely guide that will help any woman on the journey of love with an ethnic man. It discusses all the major roadblocks on that route, including the challenging attitudes toward relationships, sex and gender that ethnic men often hold. Faizal Sahukhan, a respected and experienced therapist in the area of multicultural romance, sets out the solutions that will enhance your chances of avoiding the culture clash and building a satisfying relationship."

—John Ince, author of Politics of Lust
"A fascinating read…a very interesting book."

— Stephen Quinn, Host of On the Coast,CBC Radio 690 AM, Vancouver, BC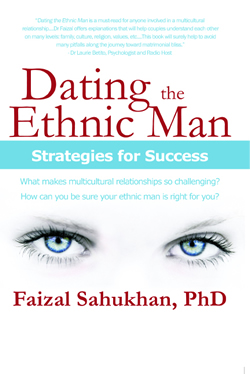 Buy Now!
Available at Trafford.com, Amazon.com, Amazon.ca,
and other online bookstores.

Special Book Offer: For an author-signed copy, email
Dr Faizal: drfaizal@multiculturalromance.com or phone
him @ (604)639-4443.

To learn more about Dr Faizal's work, visit his other
website: www.multiculturalromance.com .

To schedule an interview or a book-reading event, please
contact:
Faizal H Sahukhan, PhD
drfaizal@multiculturalromance.com or (604)639-4443

Are you a publisher? – Rights available for US and International markets